Free Privacy Policy Generator
3 easy steps to create Privacy Policy for your Website:
step1
Login to our website and visit to the Form to access the online Privacy Policy generator.
step2
Fill in the details of your company, website, kind of information that you collect from visitors of website/clients and few other questions to get privacy policy online.
step3
Our well-versed lawyers will work on drafting the Privacy Policy for you and a standard privacy policy for website having all the required details will be ready for you to download.
You will get this online privacy policy in an editable format so you can always edit it as per your requirement.
Sensitive Personal Data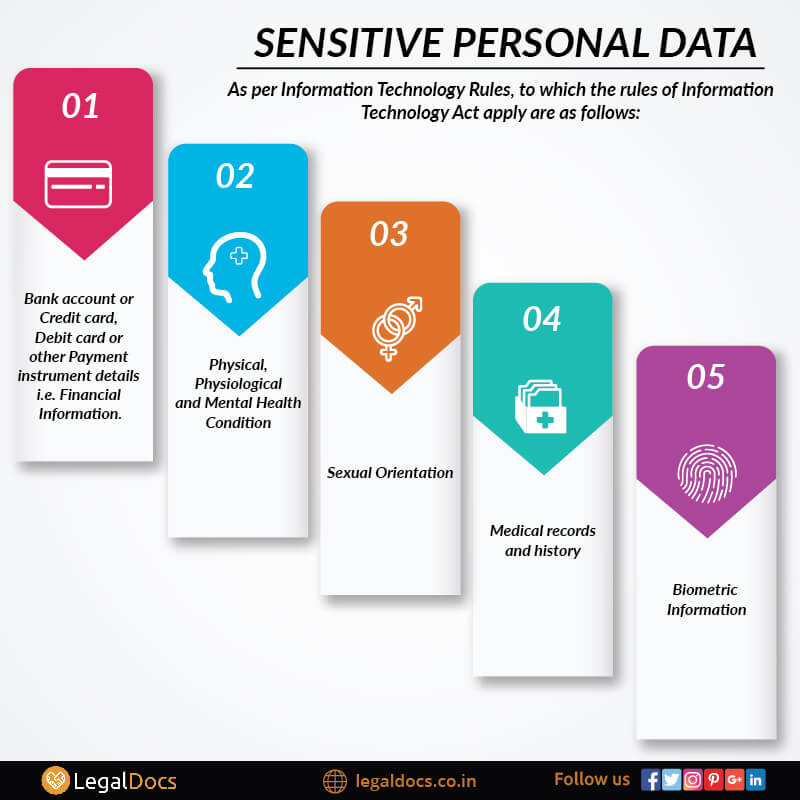 What is Privacy Policy?
Need of Privacy Policy:
In today's world where each corner of the world is accessible through internet, the corporate world has also managed to crawl up and match steps with the changing time. Internet has multiplied the chances of business entities to stretch their reach to more and more people, within and beyond the territory, they dwell in. No one wants to miss the chance of expanding itself beyond boundaries and to excel into its business by reaching an uncountable number of people. That's the reason why every business entity has a website today, irrespective of its size and nature of the business. Undoubtedly, it befits the business of the entity upto some extent, but only selling products on the website is not enough these days.
The websites also take information of the client, either by a 'Login' option or by getting a 'Form' filled by the client with an intention to analyse and understand their client, their choices, their taste, their interest, their preferences, etc. The business entity may also use such information and analysis to advertise or to promote their new or existing products or services to the existing clients as well as to those who are their prospective clients to whom they reach by accessing the information shared, knowingly or unknowingly, by their clients or by persons accessing their websites.
Collecting such personal information from people and using it further for business advantage is a good and effective way of promoting and growing a business but only as far as the people sharing the information are aware of it. If the personal information so provided by the people is used by the business entity for its benefit or otherwise, without the knowledge of the people, if such information is shared, it would be a punishable offence.
Thus, to safeguard the business entity from any uninvited and unintended penalties and punishments, it is always beneficial for a website to have a Privacy Policy.
Privacy Policy for Website
A Privacy Policy is a legal document, on the website of the entity, which discloses the ways the entity owning the website (hereafter a party) gathers, uses, discloses, and manages a customer or client's data. As per the Constitution of India, every citizen has the right to Privacy. Similar laws also prevail in the other countries in the rest of the world. Thus, any personal information that is shared by any person, shall not be used or shared with the third party without the knowledge of such person whose information is shared. The Privacy Policy thus fulfils the legal requirement to protect a customer or client's privacy.
It is a statement that declares a party's policy on how it collects, stores, and releases personal information it collects from either its clients or from people visiting its website. A Privacy Policy clearly informs the client what specific information is collected, and whether it is kept confidential, shared with partners, or sold to other firms or enterprises. Its content also depends upon the applicable laws over its geographical stretch.
Which information amounts to a 'Personal Information' in Privacy Policy?
Personal Information covered under Privacy Policy includes (with respect to a person):
Name
Address
Date of Birth
Marital Status
Contact Information
ID's issue and expiry date
Financial Records
Credit information
Medical history
Location
Location of Vacation/Travel
Liking/ Preference/ Intention to buy/sell goods and/or services, etc.
Personal information could mean anything that can be used to identify an individual, not being limited to the abovementioned titles.
Importance of Privacy Policy:
Privacy Policy depicts your company's point of view, its methods of collecting information from visitors and the way it uses the information. It also specifies the efforts taken by the organisation to keep the collected data safe. It not only builds up the trust of the website visitors, it also abides by the privacy policy laws in India as privacy policy is one of the most important legal documents on any website.
Sincere effort should be taken to make a Privacy Policy for your website. It shall be both accurate and easy to understand as it depicts to all users the assurance that any information they have provided to the owners of the website will not under any circumstances be disclosed to others, and would be used in a way as provided for in the privacy policy.
You can find the Privacy Policy template for your website, made exactly as per your requirements, on our website - LegalDocs.co.in
What does Privacy Policy for Website Cover?
Following shall be the essential content of the Privacy Policy:
Description of the information collected as well as cookies set;
Description of how information collected from users or clients is used;
Explaination as to how the information is protected;
How third party ads may be delivered and what information may be collected;
Information as to how to access the web account file;
Procedure as to how to opt out of emails;
If and how site may be used by minors and what information may be collected;
Specific explaination that transmission of data over the internet may not be secure;
Address, email address (or online form) as well as a real world address, where a user can write their query or grievances to.